For those of you who must seek an easier way, there are places where you may rent all that you'll need for that lasting medieval impression:
1. Hellen's Pacific Costumes
7501 N Glisan St
Portland, OR 97213
503.254.2005
2. Hollywood Costumers
635 SE Hawthorne Blvd
Portland, OR 97214
503.235.9215
We now know that some of you ARE frightened, intimidated and overwhelmed by the prospect of putting together a medieval costume for the wedding. However, the look is VERY simple and can be done cheaply and quickly.


EZ Patterns coming soon.


"Chinese slippers" would work in a pinch and though boots haven't come into vogue yet, if that's all ya got... feel free to wear 'em.

Both men and women can use a good, sturdy leather belt. Look for them in thrift shops, or look for simple belt buckles and make your own.

Knee high moccasins or boots for either sex, or "Mary Janes" for women works well, or flat pump style shoes in a natural color. If you are a peasant, leather sandals will also work, especially if they are laced. A pouch to hang off your belt can be made of leather or fabric.

Medieval peoples carried their own eating utensils with them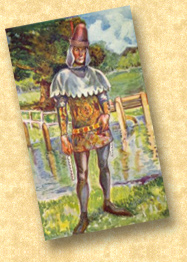 Coming soon....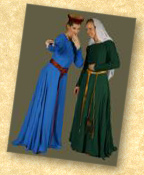 Probably included in the patterns above....


More is a-comin'


The wedding is set in the year 1350,

First you have to decide what class you wish to emulate. Since we are taking this from the aspect of a wedding in a country medieval village, you have a multitude of choices depending on your occupation.

• Royalty - The most formal clothes from the era (please email us if you wish to do this)
• Merchant class - Good, modestly prosperous
• Peasant - Casual, outdoorsy, little decoration, patched, reused




Europe was in an ice age in 1350 which is why you see so many layers and long, long sleeves. However in 1350 most sleeves (for over clothes) did not come below the elbow. It was the underclothing that extended down. I have found historical references to short sleeves but very few pictures. My own dress is one of those. Do not feel compelled to wear long sleeves if you do not wish to. A short sleeve dress (for the women) with tippets attached to give the right look would work fine. (a tippet is those long things that hang down)
Men if you wear a thin linen under tunic with an open sided over tunic you will look sexy and period.


...Just buckle down and wear 'em.



The main style of clothing for most of the middle ages is the T-tunic. It is very simple to make but has millions of variations and can be elaborately decorated. You can decorate the sleeves, the hem, the collar, the front, etc. It can be as long or as short as you please, the sides can flare out instead of being cut straight down, and the side seams can be left open below the hips for greater range of movement. The T-tunic was worn by both men and women and it is cut like: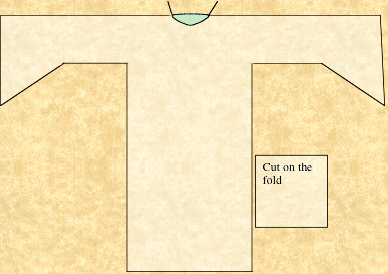 Measure from the neckline to the knee.
Double that length.
Get that many inches of 60 inch wide fabric.
The fabric is already folded length wise. Fold it in half again and lay it out on the floor.
Find a comfortable large t-shirt and fold it in half, sleeves together.
Place the shirt so the fold of the t-shirt is along the side fold edge of the fabric, and the neck opening is at the top fold.
Cut an opening for the neck, not too big.
Cut out the sleeve/body part.
Sew sides together wrong side out, hem length, neck, and sleeves. Add trims.




Yes! A medieval wedding was a community event and effort. If you come dressed as a peasant we will ask you to do a peasants job. If you want to be knight you might be asked to protect something and on and on. If you would like to have an actual part in the festivities please email us with your ideas. We also have some of our own and if you indicate your interest we can assign one to you. All of this just makes the day more fun and interesting for all of us.